LJ Baynes keeps crew on no-TD call
4th qtr | 12:35. On a night when Broncos quarterback Peyton Manning throws seven touchdowns — first time anyone has done that since Joe Kapp in 1969 — his teammate, Danny Trevathan, upstaged everything with an incredible lapse in judgement .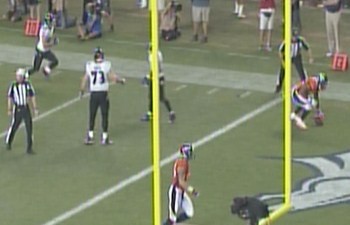 Trevathan's return of an interception seemed to be a certain touchdown for the Broncos linebacker, but the officials were acutely aware that Trevathan had dropped the ball prior to entering the end zone. Because it was an interception return, the crew was in reverse mechanics — that is, because of the reverse in direction, the head linesman and line judge have responsibility for the goal line, and the side judge and field judge rule forward progress.
Line judge Rusty Baynes, a four-year NFL veteran, parked himself  right at the goal line, but he did not signal touchdown. (In this image, Baynes is partially behind the goalpost.) He continued to monitor the loose ball as it remained in the end zone. A scramble for the ball forced it out of bounds in the end zone, which is ruled a touchback and returning the ball to the Ravens. (If no player attempted to recover the ball, it would then be declared dead in the end zone,
Any one of the officials could have killed the play, but it ran to its conclusion without an inadvertent whistle, something that easily could have happened when there is contact following a presumed touchdown.
Baynes stayed with the call, and the replays confirmed that a review wasn't even required. In a humdrum runaway game which was delayed 45 minutes at the outset, it is easy to get trapped into a lull, but the crew were observant of their situation, particularly the active stance that Baynes had in his coverage.
Oddly, this same situation happened to the Broncos last year, but the touchdown stood.
Walt Coleman was the referee.
Image: NFL/NBC Sports