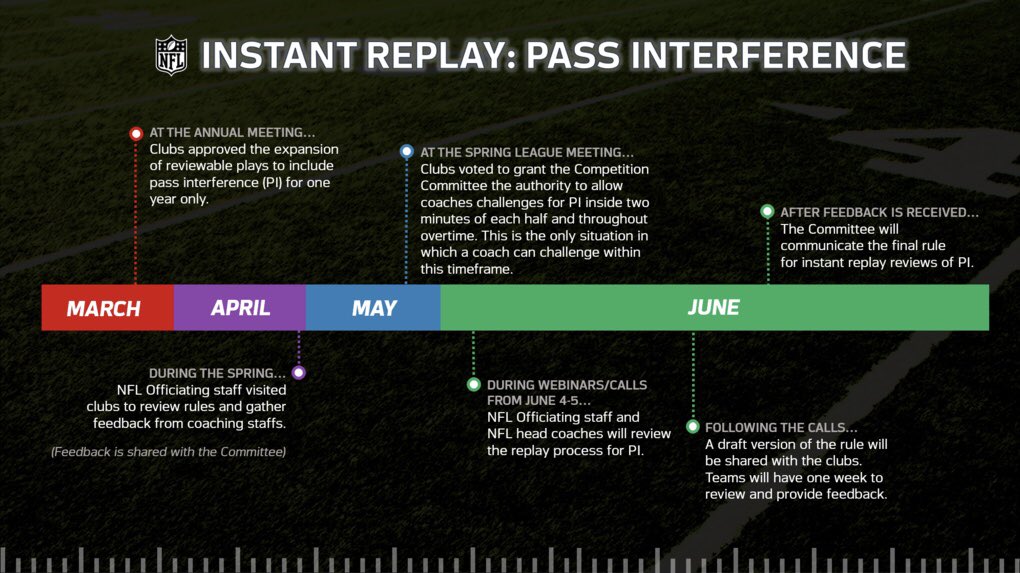 At the league's Annual Meeting in Phoenix last March, NFL owners approved an expansion of instant replay to include offensive and defensive pass interference, stemming from the infamous fourth quarter play from last January's NFC Championship Game. Since the owners meeting, in an unprecedented series of events, the Competition Committee has sought the assistance of the 32 clubs in order to create a new review provision to solely focus on called, or non-called, pass interference, only the second foul to be reviewable in replay's existence, joining replay reviews for players on the field.
Many different modifications have been introduced to the original proposed text of the rule since its creation, including allowing no-calls to be reviewed, as well as allowing coaches to challenge pass interference plays after the two-minute warning in each half, an addition voted in favor for at the league's Spring Meeting in May. Over the past week, the Officiating Department has taken part in conference calls with the head coaches from each team in order to receive input on the new process that will go into place in the upcoming season. It is not normal to seek this much input from the teams on a rule change.
Now that the individual discussions with the head coaches have finished, a final draft of the rule will be sent to the clubs, which will likely be released to them in the coming weeks. Once this draft is released to the teams, the organizations will have one week to provide even more feedback before the rule hits the books.
To be blunt, this is a very big change to instant replay. The potential success, or lack thereof, of this rule may influence public opinion about the judgment call more than it already has since this past postseason. Unlike any rule changes of its kind, the Officiating Department is taking meticulous steps in order to make the rule as close to perfect as it can be.
Allowing the head coaches and owners to provide this amount of input is very unusual but at the same time, is necessary to make sure that all potential misses can be corrected and all wrong calls can be picked up, as a penalty for defensive pass interference could potentially be longer than half the length of the field, with as little controversy as possible.