2012 AFC Championship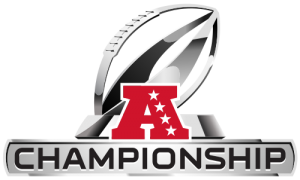 We will be live blogging the calls and rules interpretations from the Ravens-Patriots game. (If you see continue reading below, click it to see the entire feed.)
If you have any questions or comments, use the comments section of this post, or tweet us @footballzebras.
Today's crew is headed by Bill Leavy. The full crew list is at the bottom of this post.
The roughing-the-passer rule is by the book. Sorry it was missing from our coverage, because it seemed very routine.
There is a recognition that, during the normal course of play, the quarterback is going to have incidental hits to the head. However, there also is a recognition that the quarterback should not be subject to a cheap head slap by an onrushing defender just because he couldn't control his arms. This was typically seen that a defensive lineman "sends a message" to the quarterback on a near-sack by slapping the quarterback's head. So, the Competition Committee issued a point of emphasis for referees to watch unnecessary contact to the quarterback's head.
In this case, the defender had his hands up at "12 o'clock" and chopped down and contacted the quarterback's helmet. Because it was a forcible blow, and not simply brushing the helmet, this was a textbook foul, and Terry McAulay did not hesitate in throwing a flag.
I missed uploading this on Sunday night, so here it is. After the helmet-to-helmet contact that was called against Bernard Pollard earlier in the game (which was called correctly), the Patriots Jerod Mayo should have been flagged for his hit on Dennis Pitta. It looks like Mayo turned his head, but he still make contact with his helmet on Pitta's helmet.
GIF Animation at Mocksession
Bill Leavy spoke to a pool reporter regarding the Stevan Ridley fumble. Here is the transcript, in its entirety:
Q: Can you give an explanation on what you saw in the hood when you went to review the fumble in the fourth quarter that confirmed the ruling on the field?
 Leavy: What I saw was the receiver was going to the ground, had both legs off the ground, no body part was on the ground. The ball hit his knee and dislodged from his hand before the rest of his body hit the ground, therefore it was a fumble and we confirmed it.
Final, Ravens 28-13
Baltimore advances to Super Bowl XLVII
Penalties — Ravens 5 for 60 yards, Patriots 4 for 40 yards, plus 1 double-foul declined. Replay reviews — Replay official challenged 2 Patriots turnovers in the 4th quarter; both were confirmed.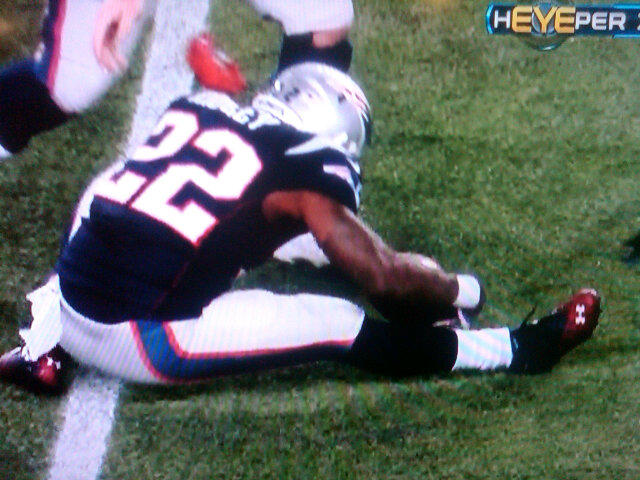 4th Qtr | 12:46 | video. On a run by Stevan Ridley, he was hit in the helmet, fell to the ground, and lost control of the ball. The call by line judge Jeff Seeman was a fumble. Ridley was injured on the play, so the focus was shifted on his well-being as the television broadcast went to commercial.
Replay official Mark Burns buzzed down during the commercial for Leavy to take a closer look. Upon review, it was apparent that Ridley was very close to being down by contact. However, just a few inches separate Ridley's leg from the ground when he loses control of the ball. (The image here shows when the ball touches his leg, the instant he loses control of the ball.)
Even with the benefit of replay, it looked like he was down by contact. It wasn't until I saw the video stopped at this point was I convinced.
2nd Qtr | :26 | GIF animation | video. On a scramble by Patriots quarterback Tom Brady, he slides feet first to declare himself down immediately. However, in the slide Brady stuck his foot out, which could have drawn an unneccessary roughness foul. It was incidental enough, however, if there had been more contact with the foot, it would have certainly been a penalty. Oddly, it might have worked in the Patriots favor, as they were confused as to which play to call, and a timeout was taken with 4 seconds remaining in the half. If the penalty was called, yes, they would have lost the 15 yards, but they would have had 18 seconds on the clock.
It was a poor slide by Brady, much like what the ball-throwing dad in the VW commercials might demonstrate to his kid.
(h/t for animation from Mocksession)
2nd Qtr | 2:00 | video. Tom Brady changes direction in a run up the middle. Unfortunately, that was where umpire Chad Brown was. There is no recourse for this, and nor should there be, as Brady ran right at Brown. Brown did what he could to get out of the way.
Since it was the first play after the two-minute warning, Brown had just moved his position from the offensive backfield to behind the linebackers. Had this play occurred before the two-minute warning,  Brown would not have been there.
4th Qtr | 11:13. Ravens — Anquan Boldin 11-yard touchdown pass from Joe Flacco. Ravens 28-13.
4th Qtr | 14:56. Ravens — Anquan Boldin 3-yard touchdown pass from Joe Flacco. Ravens 21-13.
3rd Qtr | 6:14. Ravens — Dennis Pitta 5-yard touchdown pass from Joe Flacco. Ravens 14-13.
3rd Qtr. | 11:12.  Officials are taught to err on the side of safety when it comes to head shots.  Bernard Pollard (Leavy announced the wrong number) hit the Patriots receiver above the shoulders.  The league will support that personal foul call.
2nd Qtr | :00. Patriots — Steven Gostkowski 25-yard field goal. Patriots 13-7.
2nd Qtr | 4:18. Patriots — Wes Welker 1-yard touchdown pass from Tom Brady. Patriots 10-7.
2nd Qtr | 9:28. Ravens — Ray Rice 2-yard touchdown run. Ravens 7-3.
On the intentional-grounding pickup, I would have held the flag until talking to the line judge. Minor quibble.
1st Qtr. | 1:05.  Good crew communication between Leavy, Seeman, and Veteri on picking up the intentional grounding flag.
1st Qtr | 6:21. Patriots — Stephen Gostkowski 31-yard field goal. Patriots 3-0.
Leavy is wearing a down indicator on each hand.  One hand helps him keep track of the down, the other indicator helps him know the position of the ball between the hashes in case they have to re-spot the ball after a penalty or incomplete pass.  Or instance, if the placement indicator is on his left hand, pinky is left hash, ring finger is half way between hash and center, middle finger is center of the field, pointer finger is half way between center and right hash, and thumb is right hash. 
This is Leavy's 15th postseason assignment, including 4 wild cards, 8 divisional playoffs, his first conference championship, and Super Bowls XXXIV and XL. It is very unusual for Leavy to have not worked a conference championship but participated in two Super Bowls. At the referee position, you must have a prior conference championship at any position to be eligible to work a Super Bowl. In Leavy's case, he already worked a Super Bowl as a back judge in his first year he was qualified to do so, thus the conference championship requirement was not enforced.
1sr Qtr. | 15:00.  Emotions and tensions are running very high.  Crew needs to be on high alert to keep a lid on things, and get between players and point them to neutral corners after every play.
|   |   |   | Yr. | Crew | College | Occupation |
| --- | --- | --- | --- | --- | --- | --- |
| R | 127 | Bill Leavy | 18 | Leavy | San Jose State | retired firefighter |
| U | 31 | Chad Brown | 21 | Carey | East Texas State | executive manager of facilities/student affairs administration |
| HL | 36 | Tony Veteri | 21 | Blakeman | Manhattan College | physical education teacher |
| LJ | 45 | Jeff Seeman | 11 | Steratore | Minnesota | brokerage sales |
| SJ | 67 | Doug Rosenbaum | 12 | Carey | Illinois Wesleyan | financial consultant |
| FJ | 88 | Scott Steenson | 22 | Winter | North Texas | commercial real estate broker |
| BJ | 46 | Perry Paganelli | 15 | Parry | Hope College | retired high school administrator |
Alternates: Ron Winter (upfield), Rusty Baynes (line), Terrence Miles (deep)
Replay official: Mark Burns
Replay assistant: Ted Campbell
Supervisor: Johnny Grier
Observer: Gary Slaughter