AFC Wild Card
We will be live blogging the calls and rules interpretations from the Bengals-Texans game. (If you see continue reading below, click it to see the entire feed.)
If you have any questions or comments, use the comments section of this post, or tweet us @footballzebras.
Today's crew is headed by Alberto Riveron. The full crew list is at the bottom of this post.
Texans 19-13, final
Penalties —  Bengals: 5 for 51 yards (plus one declined), Texans: 7 for 55. Replay reviews — Texans lost one challenge (call confirmed).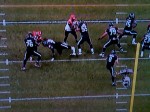 Mike Pereira noted that there was a missed chop block call on the Bengals interception return for a touchdown in the 2nd quarter. At the left of the image (click to enlarge), two Texans engage a Bengals defender high and low illegally (video).
Since it is a personal foul on a scoring play, the 15 yards would have been applied on the kickoff, if it had been called.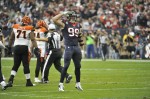 Riveron makes sure that all parties go to their neutral corners after a sack by Texans defensive end J.J. Watt in the first quarter. (Houston Texans photo)
4th Qtr | 9:08. Bengals ball, 4th-and-2 on the Texans 29. Josh Brown 47-yard field goal is good. Texans 19-13.
4th Qtr | 14:21. Texans ball 4th-and-goal on the 6. Shayne Graham 24-yard field goal is good. Texans 19-10.
3rd Qtr | 7:58 | Texans challenge. Bengals quarterback Andy Dalton threw a forward pass while being hit. Ball fell incomplete and the Texans picked up the loose ball after the whistle. Texans coach Gary Kubiak believed it was a fumble.
Riveron correctly confirmed the call on the field. While Dalton was hit, he maintained a grip on the ball, enough to pass it. Now, the pass was lousy because he was hit, but Dalton's arm was going forward with enough control of the ball to constitute possession.
3rd Qtr | 10:35. Texans ball, 2nd-and-goal at the 1. Arian Foster 1-yard touchdown run (Shayne Graham kick). Texans 16-7.
Not much mystery on the catch interference foul on the Bengals, as the receiver was tackled before the punt got there. It's a 15-yard penalty from the spot of the foul.
End of 2nd Quarter
Penalties: Bengals 1 for 11 yards (plus one declined), Texans 1 for 5. Replay reviews: none.
2nd Qtr | 2:19 Texans ball, 4th-and-3 at the Bengals 4. Shayne Graham 22-yard field goal is good. Texans 9-7.
2nd Qtr | 9:38 Texans ball, 3rd-and-3 at the Texans 19. Matt Schaub pass is intercepted by Leon Hall, returned 21 yards for a touchdown (Josh Brown kick). Bengals 7-6.
2nd Qtr | 9:30.  Nice job by line judge Gary Arthur on the Bengals pick-six.  He had to reverse his field quickly, watch the sidelines, and not run into any sideline personnel. 
2nd Qtr | 13:07 Texans ball,  4th-and-3 at the Bengals 9. Shayne Graham, 27-yard field goal is good. Texans 6-0.
2nd Qtr | 15:00 Riveron's crew had a very uneventful first quarter.  In my opinion all the fouls were there.  If there were any butterflies at the kickoff they should be gone by now.  The crew is in a good rhythm. 
1st Qtr | 7:54 Texans ball,  4th-and-2 at the Bengals 30. Shayne Graham, 48-yard field goal is good. Texans 3-0.

NBC just posted that this is Riveron's third playoff game. Riveron did three playoff games as a side judge.
Alberto Riveron is officiating his first Wild Card game tonight. He headed the AFC Championship crew last year, and has worked three Divisional Playoffs.
|   |   |   | Yr. | Crew | College | Occupation |
| --- | --- | --- | --- | --- | --- | --- |
| R | 57 | Alberto Riveron | 9 |   | Miami | sales, commercial restaurant equipment |
| U | 11 | Fred Bryan | 4 | Corrente | Northern Iowa | superintendent, juvenile correctional facility |
| HL | 48 | Jim Mello | 9 | Riveron | Northeastern | facilities manager |
| LJ | 108 | Gary Arthur | 16 | Winter | Wright State | president, commercial printing company |
| FJ | 33 | Steve Zimmer | 16 | Riveron | Hofstra | attorney |
| SJ | 58 | Jimmy DeBell | 4 | Riveron | SUNY-Brockport | high school teacher |
| BJ | 12 | Greg Steed | 10 | Winter | Howard | computer systems analyst |