The NFL officials are in Dallas today to meet with union leadership and vote to ratify the collective bargaining agreement with the NFL. Watch this post for updates.
[Saturday]
The union ratified on a vote of 112-5. All the officials are headed to their Sunday game sites right now.
Reporter Ted Madden of WFAA in Dallas-Fort Worth was set to cover today's press conference that, apparently, is not happening.
We just got stood up by the referees after waiting patiently for their 7:00 briefing. I've just become a lot less sympathetic to their side.
On the bright side, Ted tweeted a picture of the new referee hats.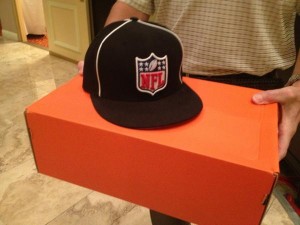 Tomorrow morning, NFL officials will meet to review rule changes and points of emphasis. From there, they will fly to their Sunday game site.
News conference scheduled for 7:00 p.m. (CT) with Jeff Triplette. NFLRA meeting begins at 7:30 for ratification of deal.