We are going to offer somewhat live commentary, but it is still preseason, so expect me to step away from the computer from time to time. This post will update automatically.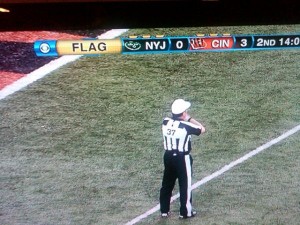 Perhaps only for our amusement, referee Jerry Frump announces a kickoff-out-of-bounds penalty to the wrong sideline during the second quarter of the Jets-Bengals game.
Giants committed an illegal forward pass with 2 seconds remaining in the game. Because the Giants are trailing, the penalty takes a 10-second runoff, which would have ended the game right there. The referee reviewed the penalty (reviewable since iit related to the line of scrimmage) but failed to take the remaining time off the clock. (Giants were sacked on the next play).
Things have been fairly quiet so far. Bouncing between two games right now.
Jets-Bengals have three members of their officiating crew who worked as strikebreakers during the 2001 referee strike.