It still is summer, and we usually lay low here during the preseason. But, given the circumstances of the replacement NFL referees, we are going to sporadically add some thoughts here about the calls made by the officials through the night.
Big mistake corrected by replay in Bills-Redskins game. A punt by the Bills is downed at the 4 yard line. The ensuing Redskins snap is spotted at the 20-yard line, ruling a touchback. The back judge was standing at the 5-yard line, thinking he was on the goal line, apparently. Buffalo had to use a challenge to correct this.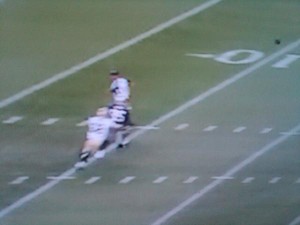 The back judge gets outhussled early in the Saints-Patriots game, unless he was intending on playing a nickel defense.

By the way, the regular replay officials are in the booth for all games. They are covered under a different collective bargaining agreement, and it is usually negotiated by the referees' union after the field referees' CBA.
Ravens-Falcons | 3rd qtr | 2:08. Referee Craig Ochoa, the referee from the Hall of Fame game, blew a play dead, announcing:
The first-down chains were not set prior to the snap, so we shut down the play prior to the snap itself.
It was after a defensive pass interference enforcement. Remember, there was a bad spot during the Hall of Fame game after an incomplete pass that was blamed on the down box on the wrong line.
Referee Robert Frazier and crew in the Bears-Broncos game enforced 10 yards for defensive holding. In the NFL, it is a 5-yard penalty. H/t @PostTVJeff